The Willamette Valley in Oregon is known for producing some of the top wines of Pinot Noir in the United States and is now being compared to Pinot Noirs from top regions around the world. Following our podcast interview with Channing Frye and Jacob Gray of Chosen Family Wines and hearing so much about the region, the Vint team had to take a trip to see it for ourselves, meet top producers, and taste the wines that have given the valley its stellar reputation.
We began the week with a fireside chat alongside Channing and Jacob tasting their wines next to wines from Burgundy and discussing what drew them to Oregon and what makes the Willamette Valley so special. The conversation ranged from their favorite Oregon producers to climate to the openness of the Oregon winemaking scene. As a young wine region, producers have had to share learnings and work together more closely than producers in more established regions like Napa Valley. Chosen Family Wines embodies this sense of camaraderie and collaboration through their collaboration wines, which feature the name of their partners on the label right next to the Chosen Family name. Check out the chat here on YouTube.
Over the next two days, the Vint team traversed the Willamette Valley, meeting with producers and diving deep into their wines. Our stops included Beaux Frères, Granville, Lingua Franca, and Cristom. At each winery, we were able to get a sense of the passion and commitment to excellence that allows each of these producers to produce wines that compete for the title of tops in the region.
Here are some shots from those visits:
Billy with Jackson Holstein of Granville Wine Company.
Tasting Beaux Frères
Bud Break Spring 2022
The Line Up at Lingua Franca
The Willamette Valley features an ideal climate and a myriad of soil types that combine to produce wines of unique character and quality. Ethereal yet powerful, bright yet deep, structured yet silky, the wines from the top Willamette producers each offer a unique sense of place. Pinot Noir is a grape that is readily shaped by its terroir, and in the Willamette, it is no different. We had multiple single-vineyard wines from the same producers, vinified in essentially the same way, that expressed themselves in entirely different ways. Some wines were light and nuanced, while others were powerful and structured, but there was always an underlying freshness that enhanced aromas and flavors while also refreshing the palate. This presence of consistent acid is one of the key characteristics that give the wines of Willamette Valley a more "old world" expression than similar California counterparts.
Exploring the soil types at Cristom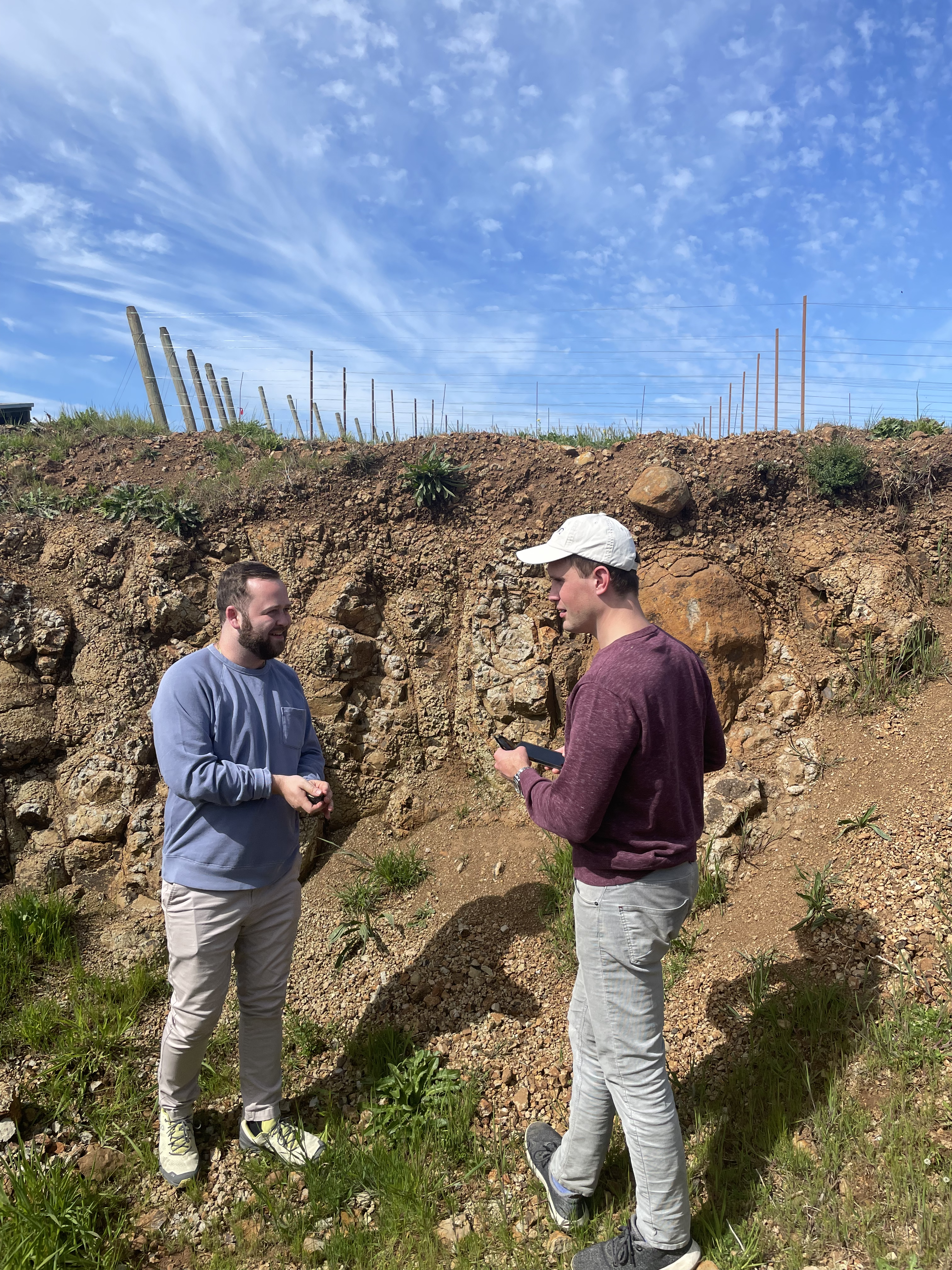 In addition to the famed Pinot Noir wines, we had many excellent Chardonnays and heard from many producers that a new age of Oregon Chardonnay was dawning. Initially, Chardonnay was planted simply because it is planted alongside Pinot Noir in Burgundy. In the early days, there was no strategic planning for Chardonnay plots, and many vineyards were simply planted where Pinot Noir would struggle. Over the past two decades-plus, producers have realized the potential quality of Chardonnay from the Willamette and have been strategically planting vineyards optimized for growing exceptional Chardonnay taking into account soil types, aspects, and other crucial viticultural factors. Based on the wines we tasted, the early wines are outstanding. We tasted lean mineral expressions that reminded us of Chablis as well as bigger riper expressions that were more reminiscent of ripe expressions of southern Burgundy. Needless to say, we recommend seeking out some Oregon Chardonnay and keeping tabs on these wines moving forward.
While it is common for many wine drinkers to try to identify "Burgundian notes" in the wines of the Willamette, direct comparisons to Burgundy in terms of the profile of the wines are not the best way to think about it, as each region has its own unique terroir that is impossible to replicate. That said, the comparisons between the two regions can be made because each region produces high-quality, terroir-driven wines, with a unique appreciation for the nuances offered by single-vineyard wines.
Stay tuned as Vint for more on our trip to Willamette and for possible collections inspired by the trip in the near future!
Cheers, The Vint Team